Alaska Salmon
Fishing Charters
Awe-inspiring Alaskan Salmon Fishing!
About Alaska Salmon Fishing:
The most prolific and sustainable salmon fishery in the world is right here in Alaska.
Every year millions of native Alaskan Salmon return to the rivers and streams where they were born to spawn themselves and the only thing in their way are seals, eagles, Orca's, brown bears and of course you!
Salmon have one of the highest commercial fishing values on the planet and have been managed well by the Alaska Department of Fish and Game for sustainability.
Alaska boasts major runs of all fives species of Pacific Salmon, which have mostly remained unimpaired.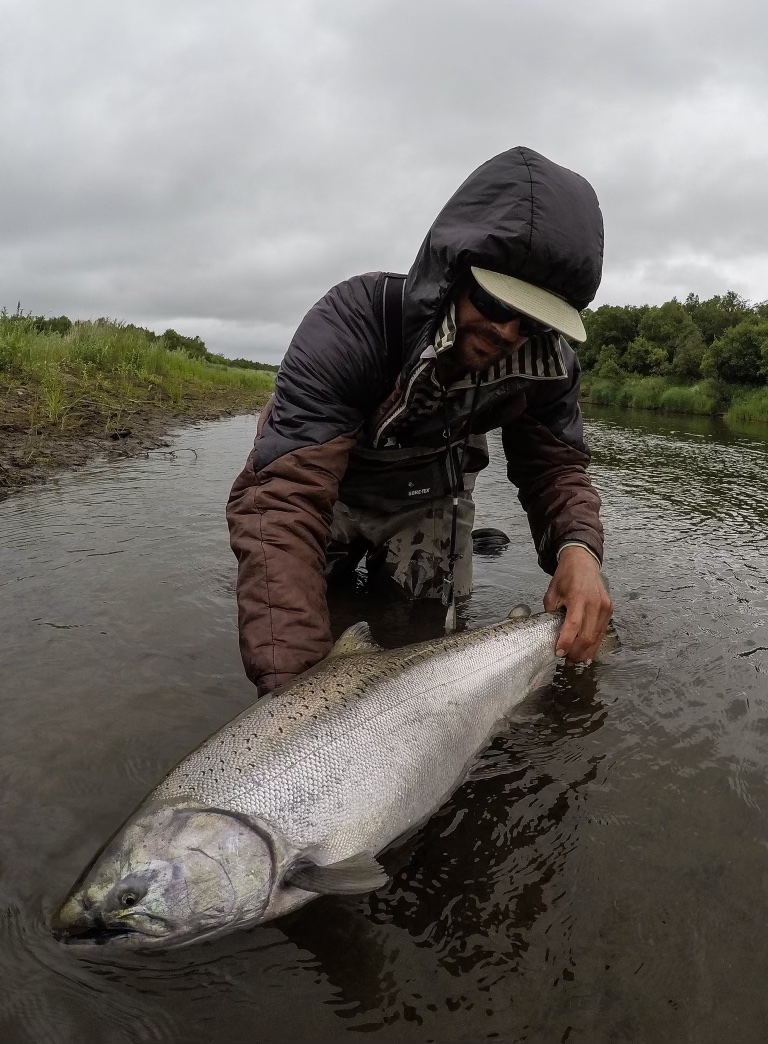 Not only do the salmon return every year but so do all of the animals and people that rely on these fish as a way of life and major source of protein. 
The indigenous people of Alaska have made consuming salmon their way of life and catching them a major part of their ancestral heritage.
Trees along rivers containing fish DNA have even gotten a jump start from the nutrients the salmon provide, trees up to 50 yards away from rivers have been documented incorporating salmon DNA into their own.
Much of Alaska would be nearly sterile if it wasn't for the nutrients that the salmon attain at sea and bring back for the riparian communities.  The local food chain is incredibly dependent upon the return of these fish, all organisms including humans, thrive in these areas because of the salmon and nutrients they bring up from the ocean.
There are 5 species of Pacific Salmon, all of which are present in the state of Alaska and have been termed "anadromous" meaning they migrate from salt water into freshwater to spawn. 
These anadromous salmon undergo an extreme metamorphosis once they enter the rivers from the ocean, some species unrecognizable after time in the freshwater rivers. 
Most salmon at sea will appear flawless and shine like a mirror, once they enter the rivers their bodies start to shut down and focus internal efforts on maturing reproductive organs. 
The salmon all change shapes and colors, their jaws extend to form a "kype" their backs change to form a hump and most species turn from silver to some shade of red. 
Kenai River Salmon Fishing
(May through October)
There's almost always salmon to be caught in the Kenai River!   King Salmon return first to the Kenai River every year, in non-historic but catchable numbers.
The Kenai also receives an excellent run of red salmon or sockeye salmon by July, followed by silver salmon in August.  Kenai river sockeye salmon are easy to catch and tough to beat.
The silver salmon continue to run through October and will remain in the river in some numbers spawning into the spring.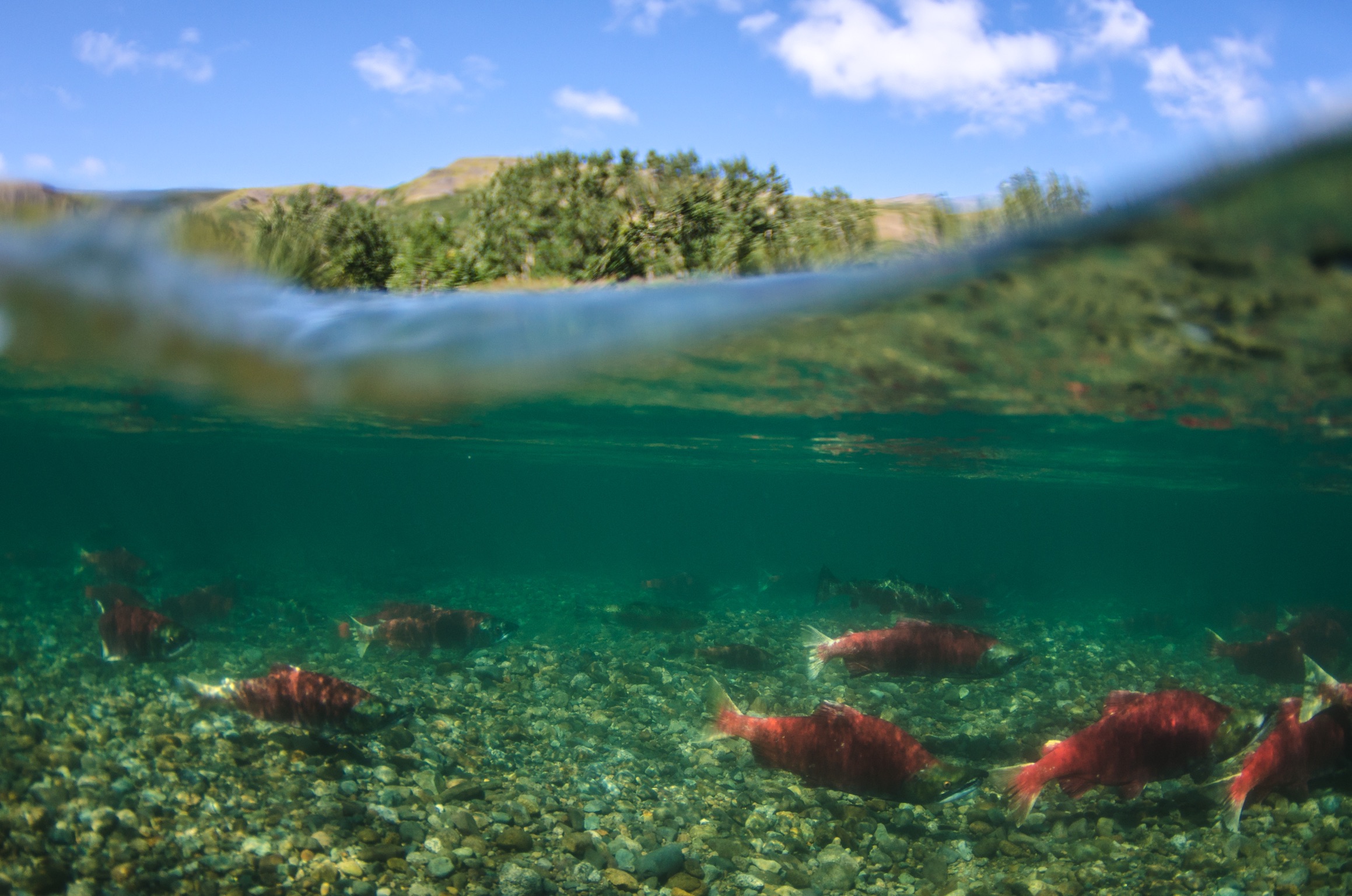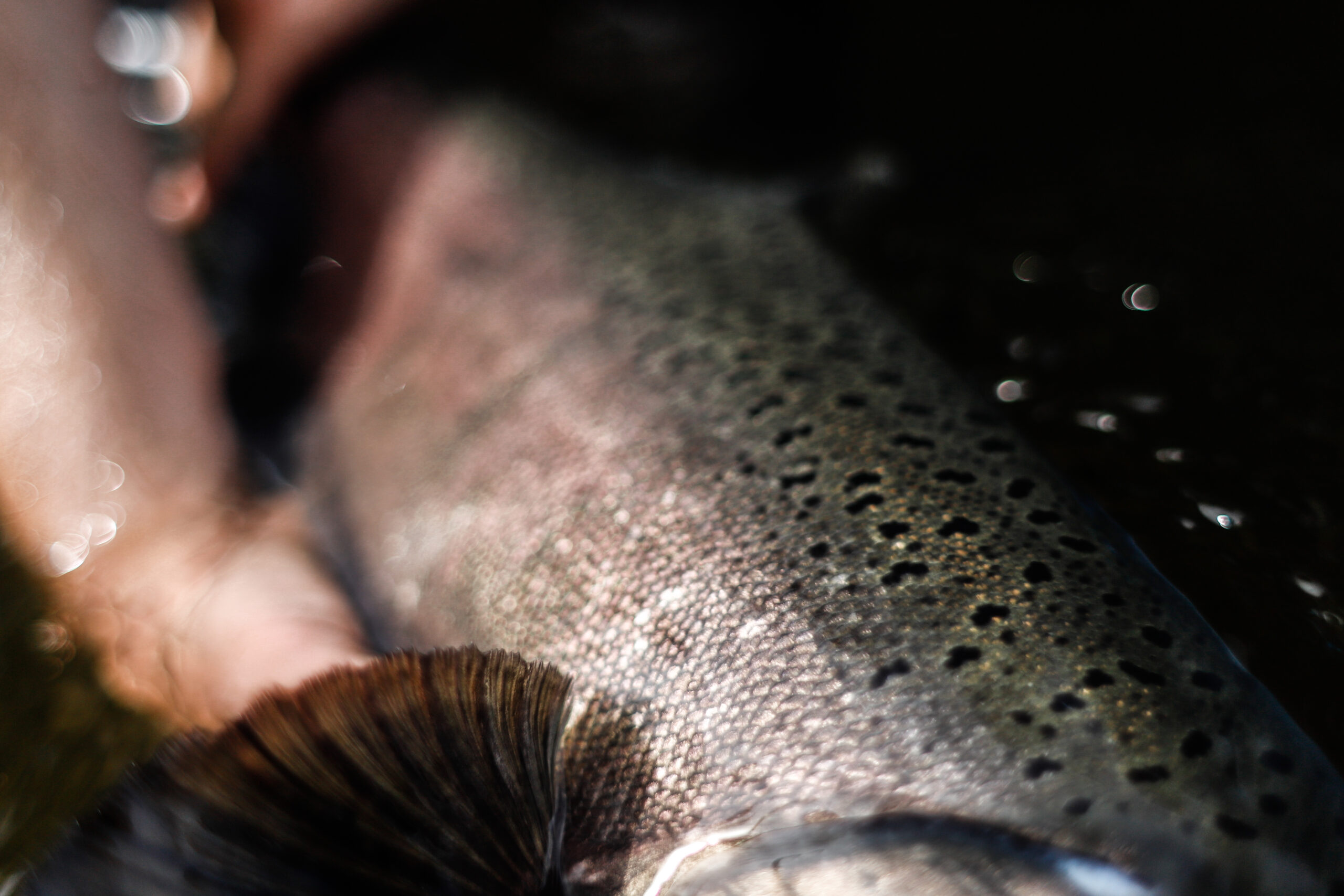 Kasilof River Salmon Fishing
(May through September)
The Kasilof river receives an early push of "first run kings" starting in mid-May that are supplemented by a hatchery program and offer a guilt free "put and take" fishery.
The Kasilof River also receives a strong run of sockeye salmon starting mid-June.  Kasilof River Sockeye Salmon are smaller than Kenai reds but have a greater daily limit for anglers who want to bring salmon home with them.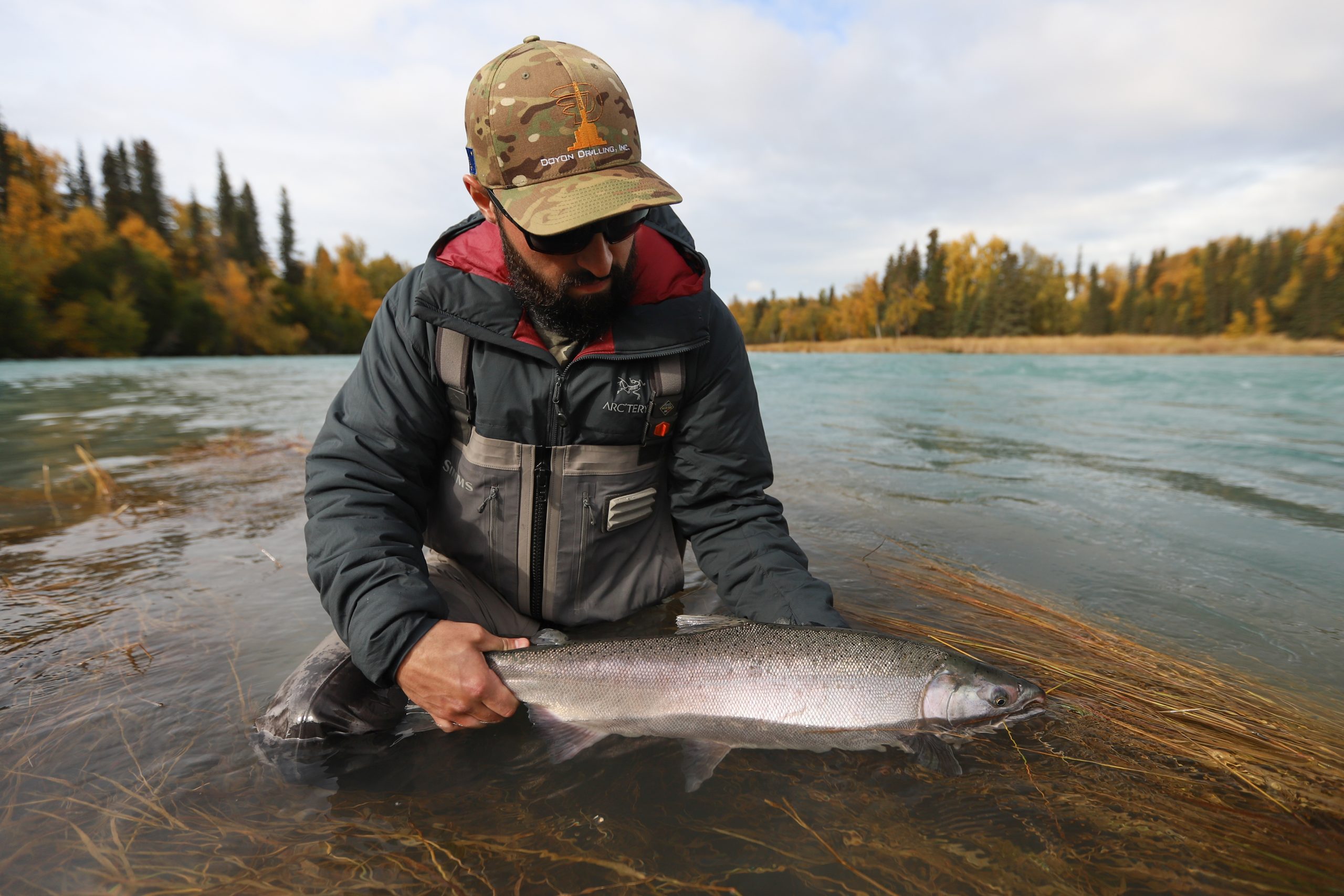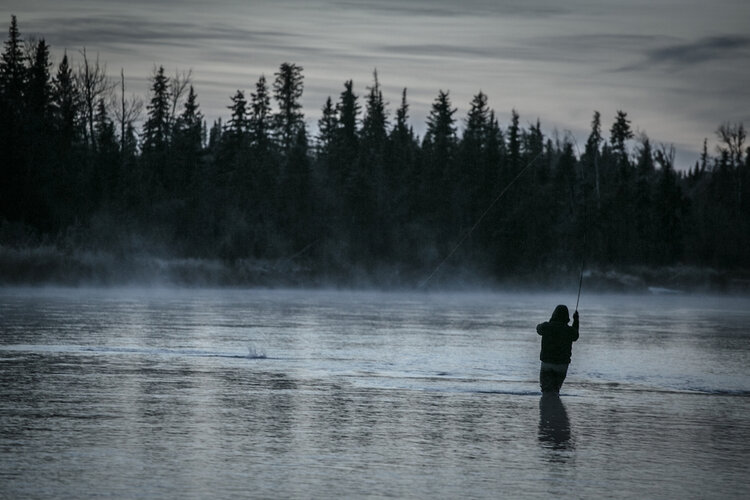 Sockeye Salmon or Red Salmon
(Oncorhynchus nerka)
Sockeye salmon are one of the most abundant salmon in the state and one of the better eating species as well.
Also called "red salmon" for their brilliantly colored flesh this species is the most widely sought after for table fare and boasts the largest commercial value of all the Pacific Salmon.
Sockeye spend three to five years at sea before they return to spawn, which is common.
What's unique is that their young spend two years in the river system before migrating down to the ocean, most salmon only spend one year in the river, this provides the young sockeye salmon with a distinct advantage.
Red salmon start off a brilliant silver color in the ocean and start to turn rosy after being in the river for a few days, the fish then turn a beautiful red color thereafter, with a vibrant green head to contrast their crimson bodies.
Red salmon charters are typically half days and can include up to five anglers.
Most fish spawn in the mainstream of the Kenai but many are Russian River Sockeye that return to this tributary of the Kenai River where they were born.
Russian River Sockeye run early in the season as they have a long journey ahead of them back to their home river.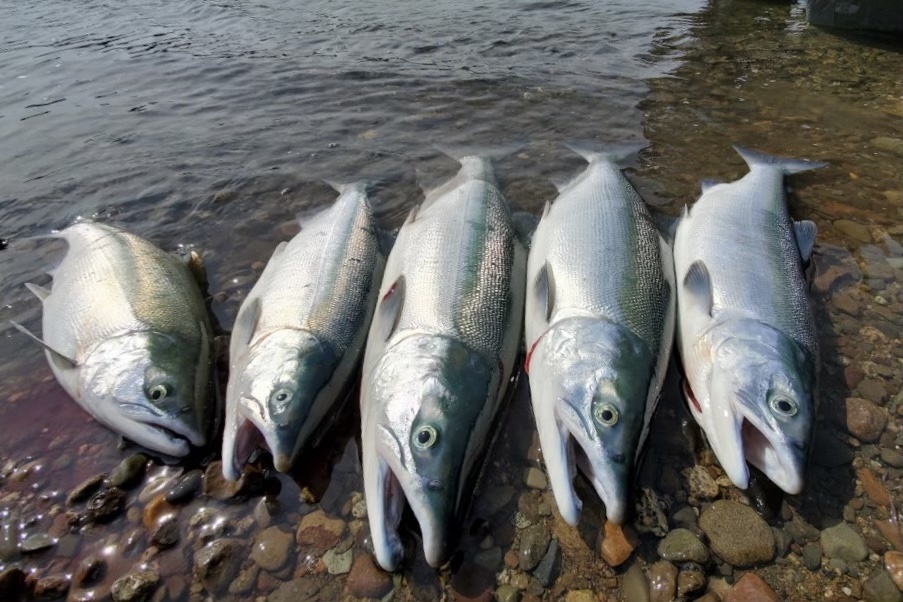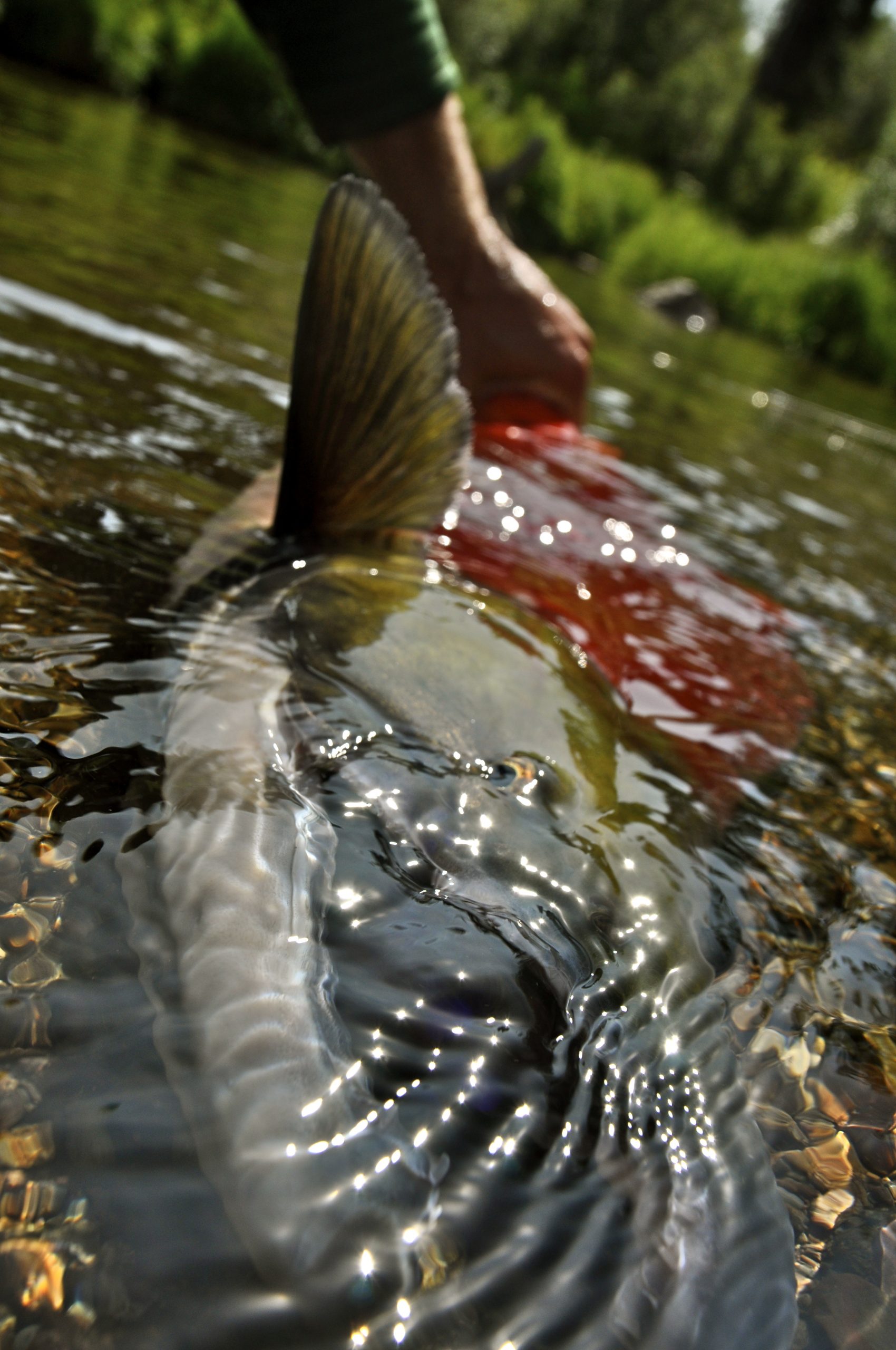 King Salmon or Chinook Salmon 
(Oncorhynchus thawytscha)
King Salmon are the largest of the five species of Pacific Salmon and are also the most difficult to catch.
Their size and quality of meat have always made the kings highly sought after for a forage fish.
Most mature kings in Alaska average 20 lbs with fish up to 40 lbs.  The Kenai River has the largest strain of king salmon in the world and fish over 70 lbs are still caught today.
The world record king salmon weighed in at 97 lbs and was caught nowhere other than the mighty Kenai River.
The Kasilof River king salmon is still a flourishing fishery that's supplemented by the state stocking program, resulting in a viable "put and take" chinook salmon fishery. 
The Kasilof is only a few miles south of the Kenai River and is often a less trafficked location for fishing.
Most anglers that aim to take a king salmon home with them focus their efforts on the Kasilof River, this fishery supplemented by stocking is a more ethical and sustainable location for king salmon harvesting.
Fly fishing for king salmon is as big of a challenge as we've got in Alaska, though it is very doable, kings are the toughest salmonid species to catch on a fly.
Spey fishing for kings when appropriate is a great advantage to take, showing your fly to more water means showing more fish and king salmon love the down and across swinging presentation.
Smaller rivers and streams require a single hand approach to fly fishing where streamers are stripped through pools for waiting kings.  Fly fishing for king salmon is customarily a two-angler charter, where we practice catch and release.
Back trolling is a common practice while king fishing where the boat is oriented upstream and the motor is left at an idle to fight the current but slowly ease us downstream.
Lures are used on conventional rods back below the boat that work in the current, dive, spin, wiggle and attract king salmon all while the rod remains in the holder.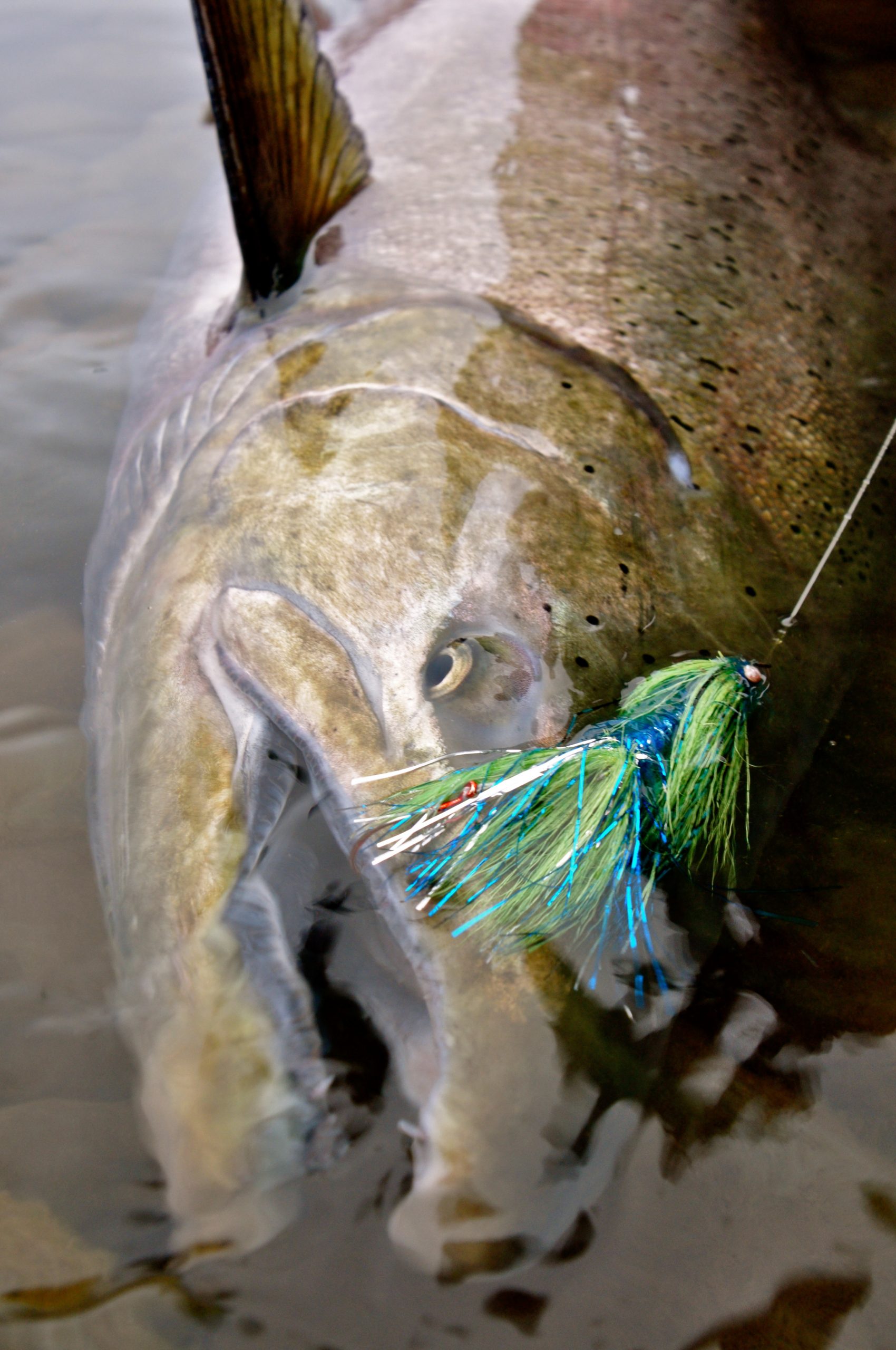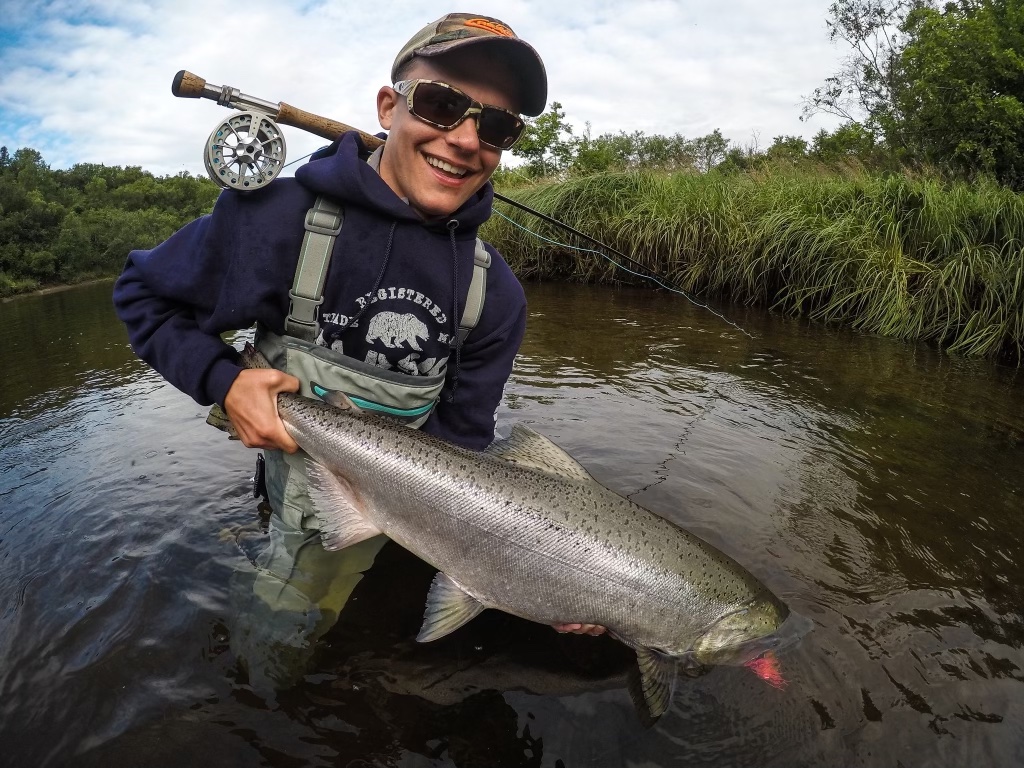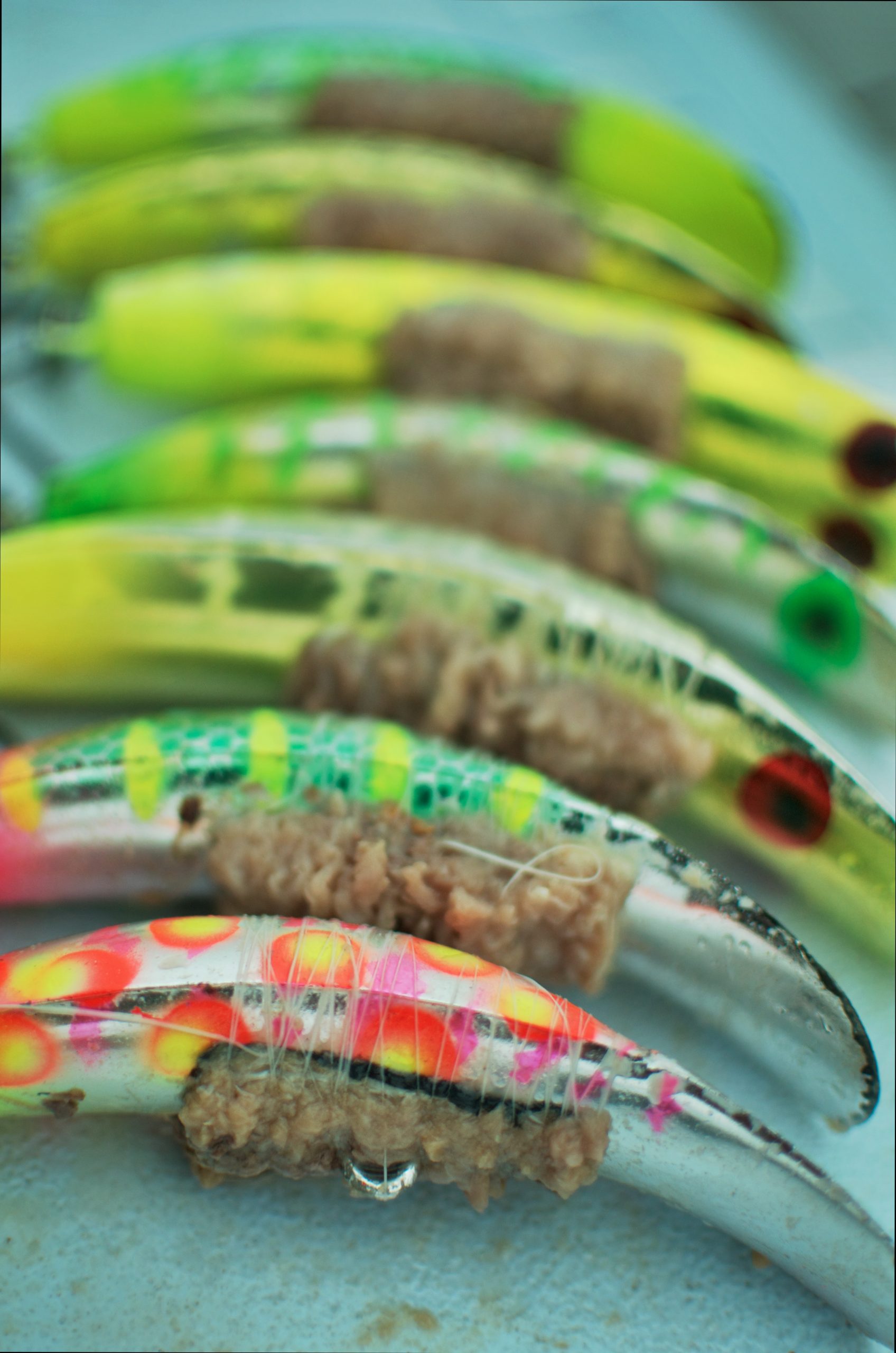 Silver Salmon
(Oncorhynchus kisutch)
Silver Salmon are the most aggressive of all the Pacific Salmon and are probably the hardest fighting for their size as well as the most acrobatic leapers. 
Silver's are the last species to migrate up the rivers to reproduce and often don't spawn until the snow flies in the late fall. 
Silvers are great eating salmon and possess some of the highest fat content of the Pacific Salmonids. 
Silvers are available in August and September everywhere but hold out until later in the season on the Kenai Peninsula, where they can be harvested to eat as late as October. 
Silvers make a great target on fly tackle as they are aggressive and love to eat stripped streamers or jigs.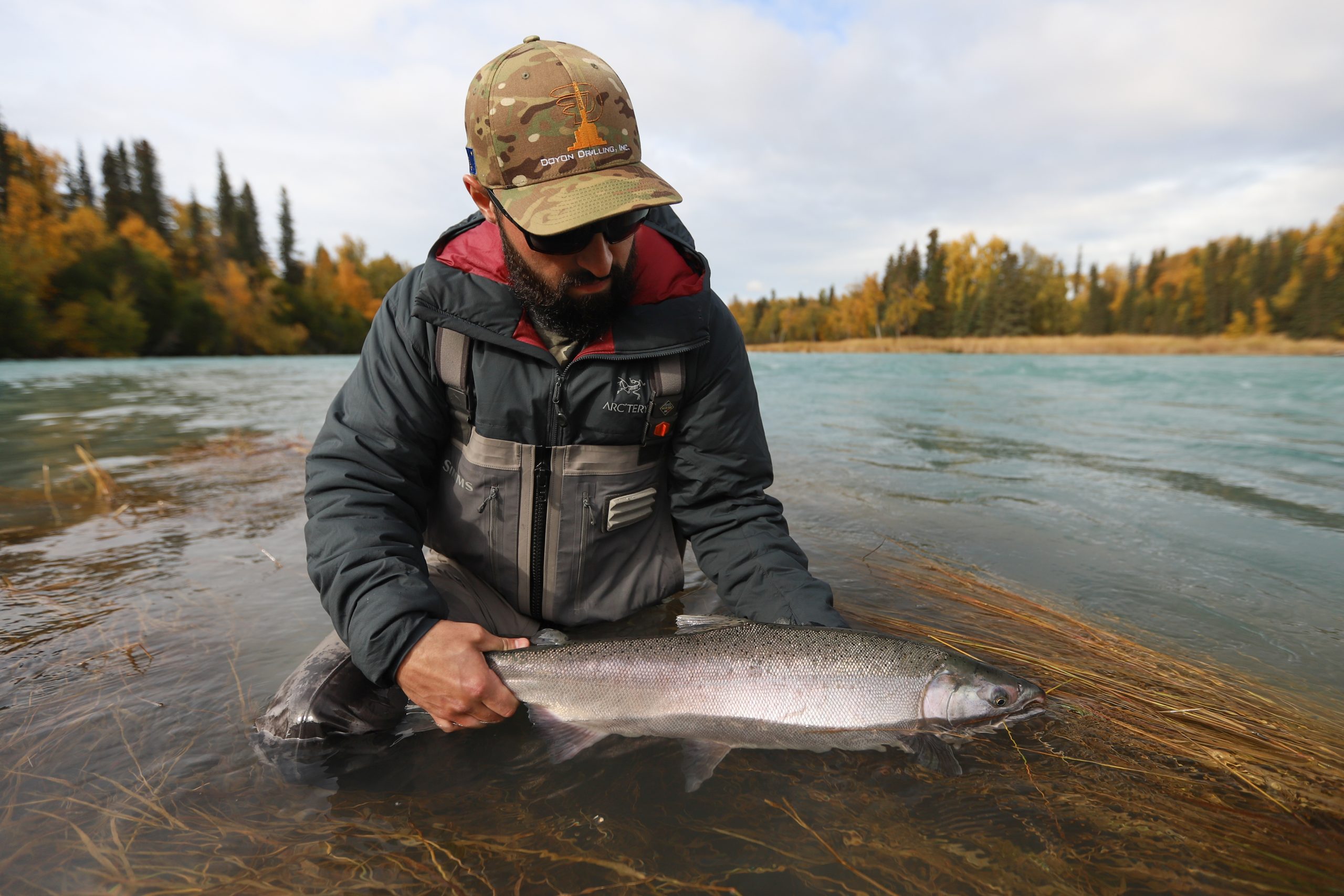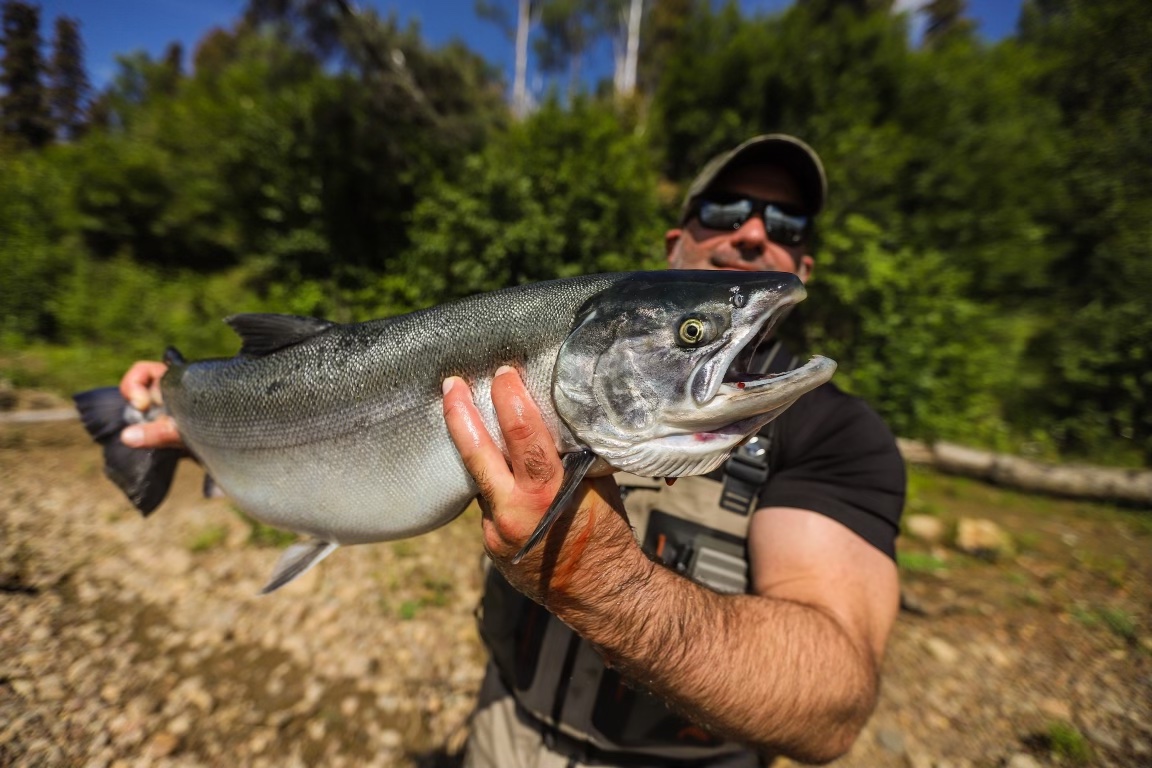 Chum salmon
(Oncorhynchus keta)
Chum salmon are the most ornate of all the Pacific species and endure such a great metamorphosis when entering the freshwater that they are nearly unrecognizable from their previous silvery form. 
Large teeth provide them with their nickname "dog salmon" and vibrant vertical bars of color make them unmistakable among the other species. 
Chums average around 10 lbs and fight to the death, they love eating flies so a serious 8 weight rod or heavier is required. 
Chum Salmon are present in July and August, deteriorate fast in the rivers and provide a great opportunity for trout once they begin to spawn and release eggs, though they aren't fit for human consumption.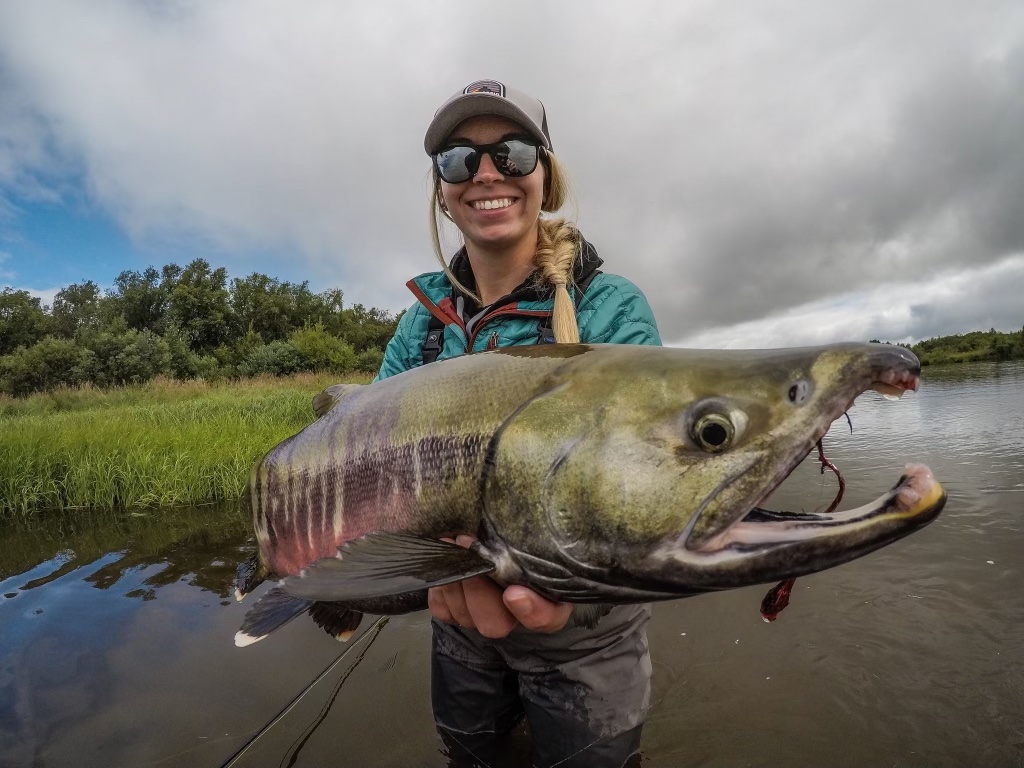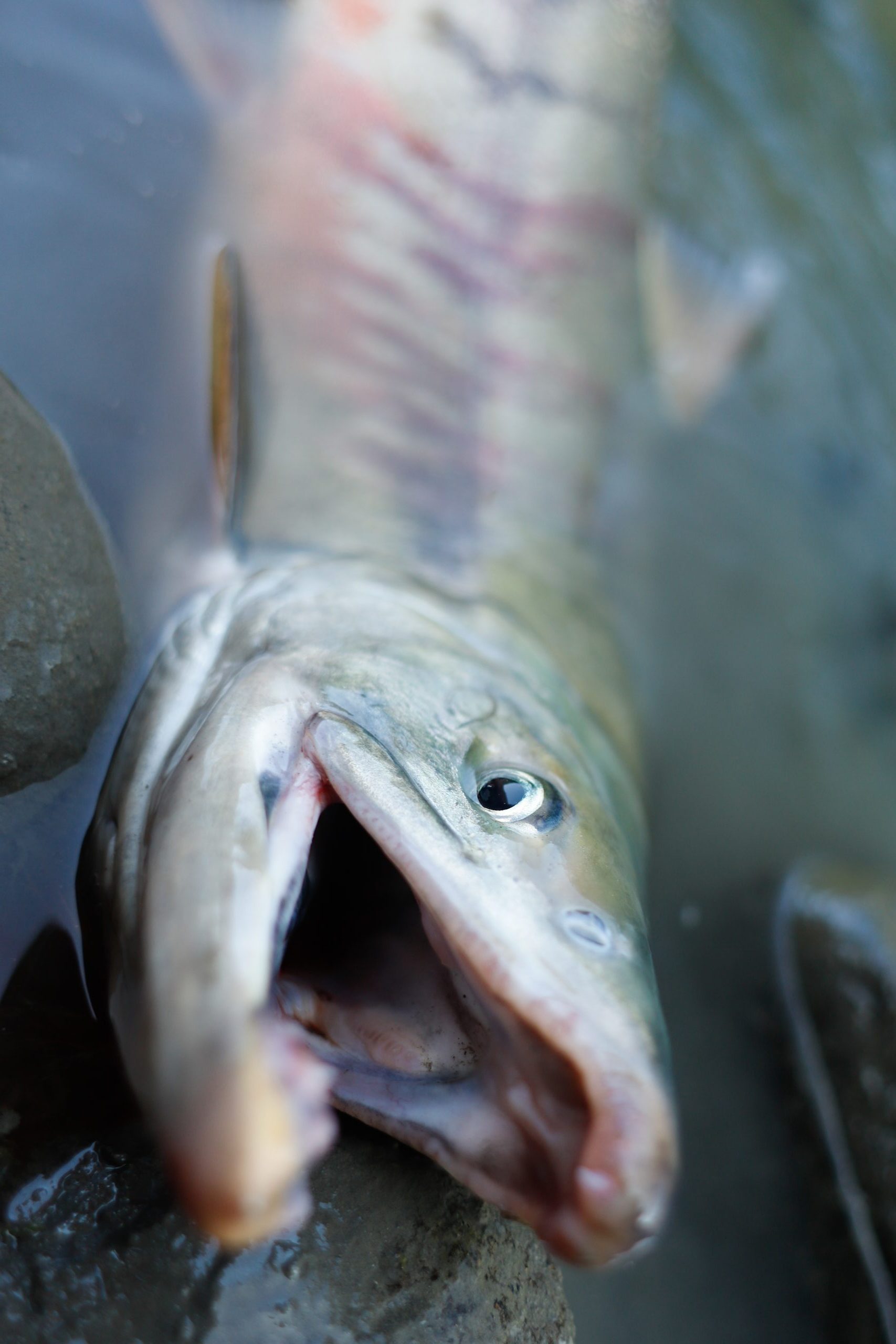 Pink salmon
(Oncorhynchus gorbuscha)
Pink salmon are the smallest bodied salmon and have prolific runs every other year, which are even years in Central Alaska. 
Pinks are commercially harvested for fish meal and pet food; seen as unpalatable once they've entered the river, there is a small canning industry for human consumption. 
Pink salmon are highly aggressive and will chase down a fly or lure, making them a great sport fish especially for kids. 
Pinks begin to enter the rivers in July and August and usually begin to spawn shortly thereafter.