Tarpon Fly Fishing Charters
Ever Hooked a Silver King on Fly?
About the Tarpon
(Megalops atlanticus):
One of the most iconic fish ever to be taken on a fly is the tarpon.
The Atlantic Tarpon has a range from Central America to the Mid Atlantic and uses the state of Florida as a great migratory landmark.
The huge schools of migratory tarpon, sometimes in the 100's of fish, make their way across the Gulf of Mexico and first make landfall on the Florida Keys and Key West.  During any good spell of weather throughout the winter, we will see schools of big migratory tarpon roaming the flats and channel edges.  The Florida Keys are truly a year-round tarpon fishery as long as the weather allows.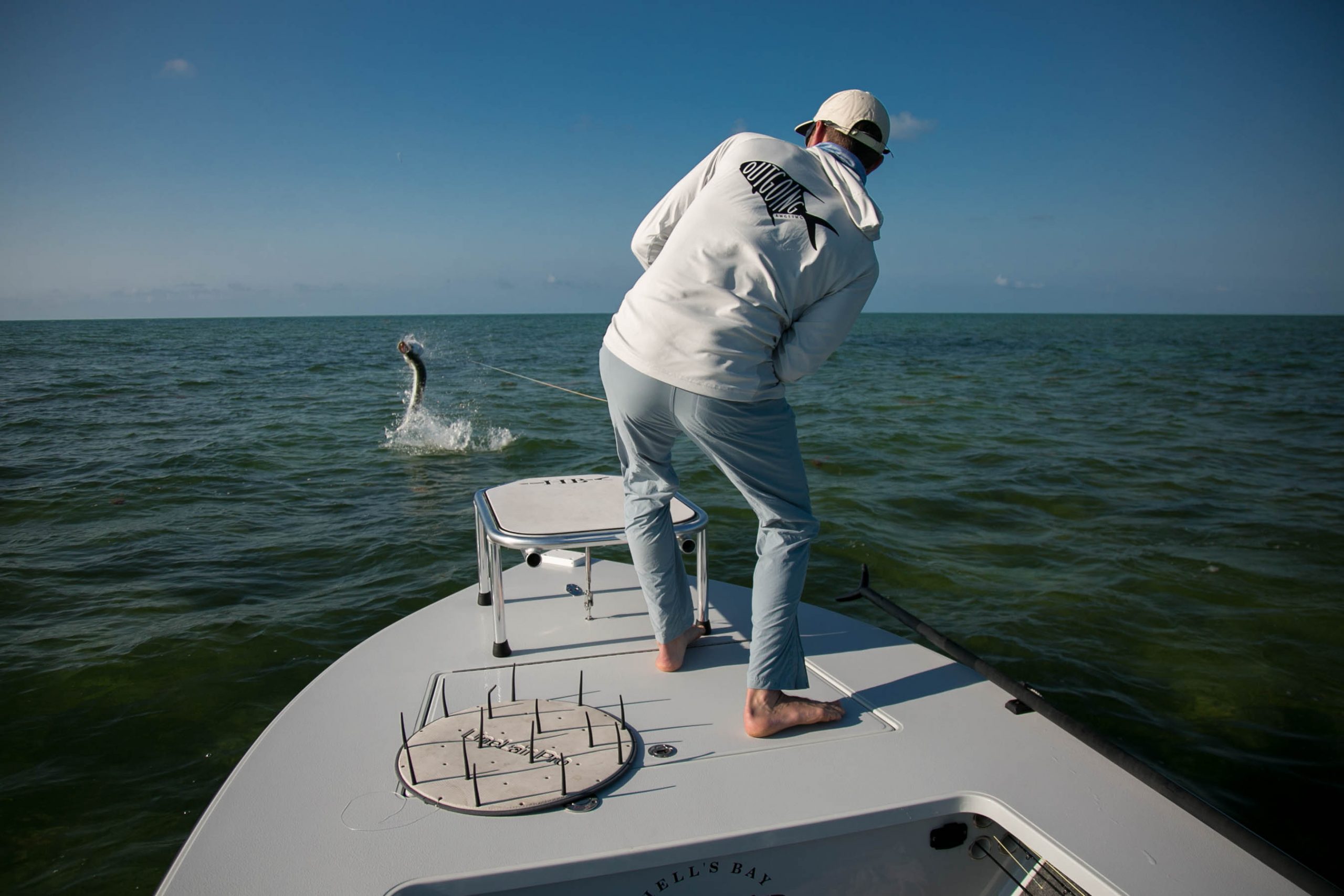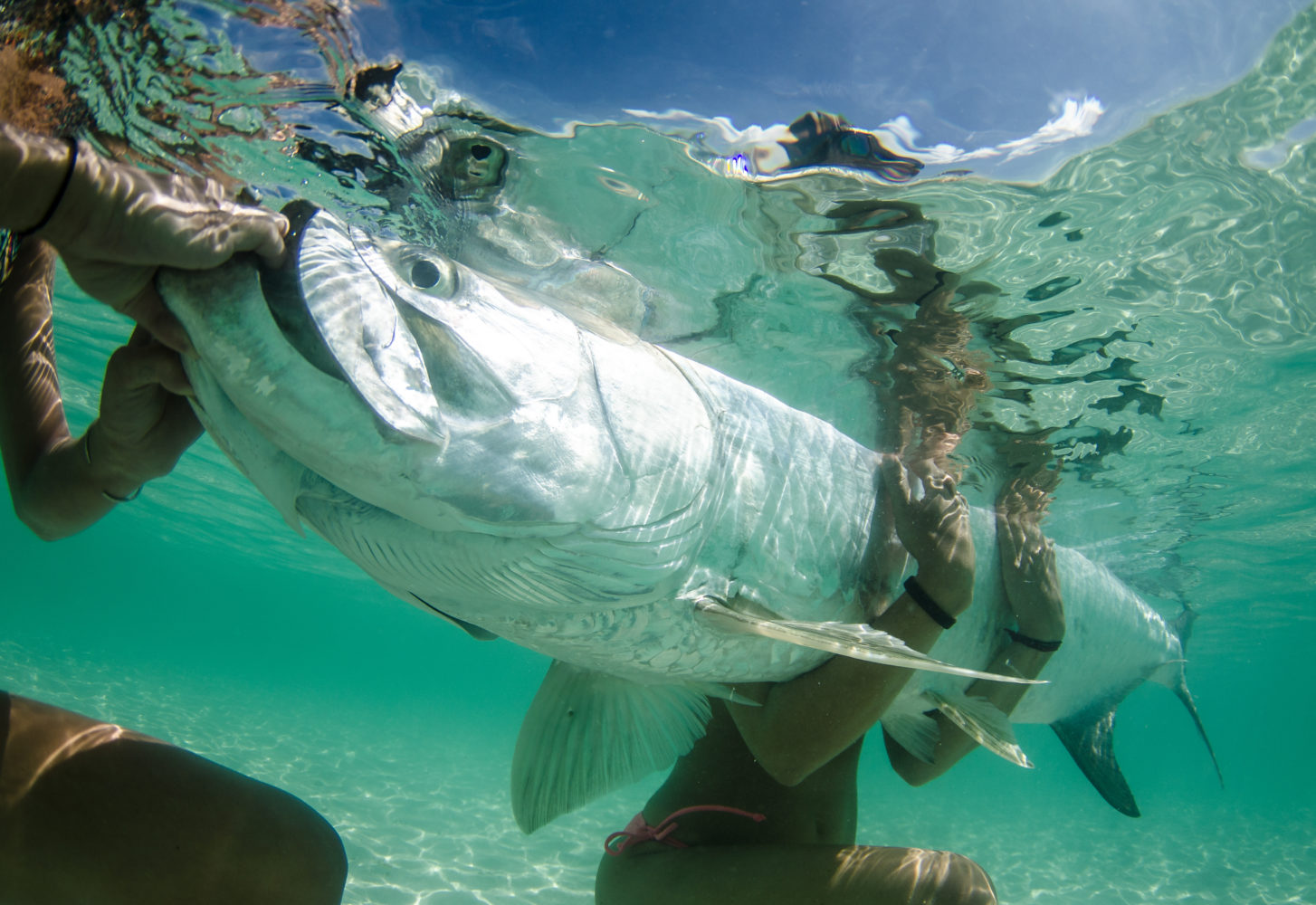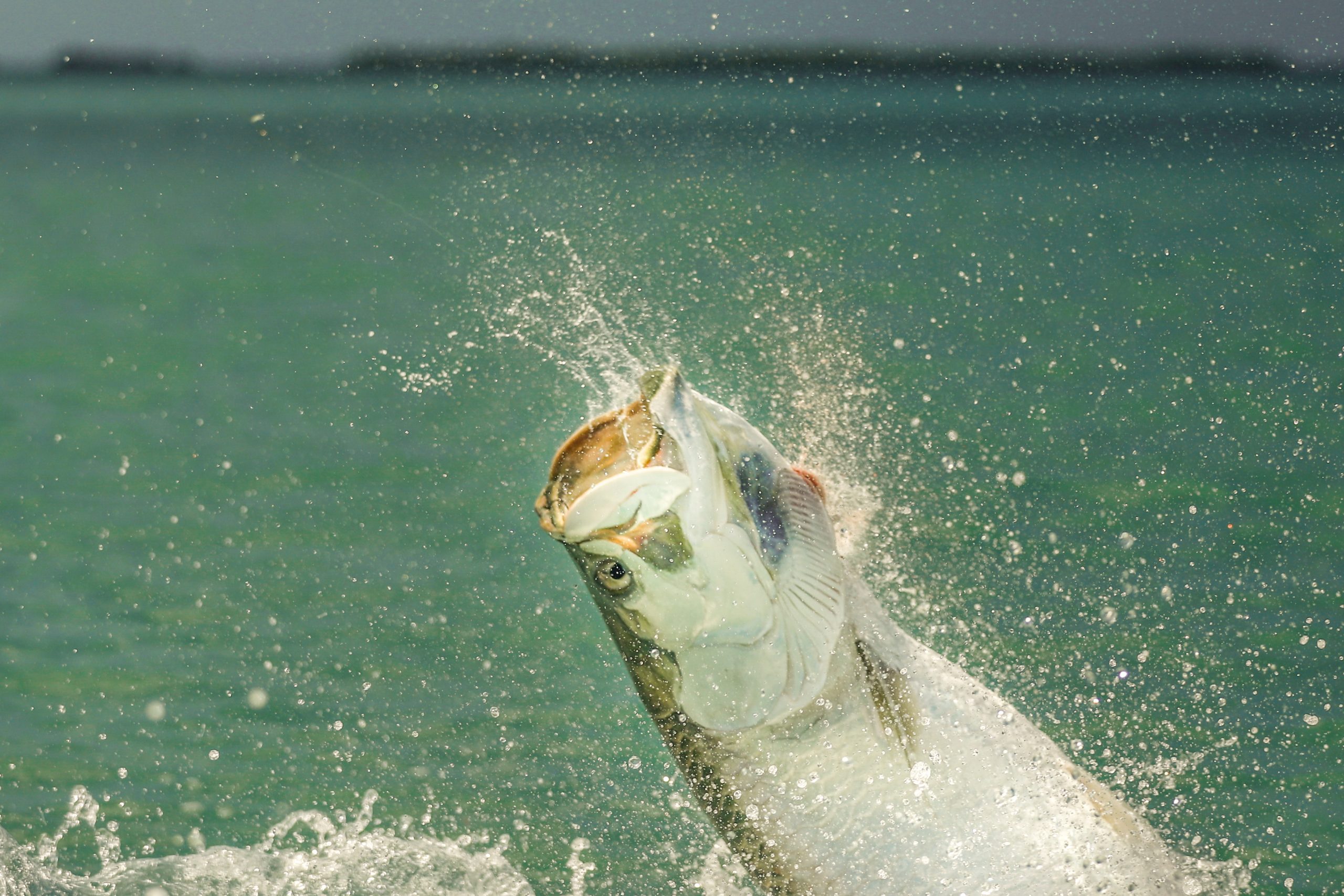 Tarpon Charters in the Florida Keys
There are resident tarpon that live in South Florida year-round and are available during an spell of good weather.  Resident tarpon range from 5-100lbs with the average being at about 30lbs.
Tarpon fly fishing charters are typically March – June and are usually booked months in advance to ensure prime dates. 
Sight fishing for adult tarpon gets no better than in South Florida and Key West.  Whether you're fly fishing for tarpon or spin casting the opportunity to feed a very large fish in shallow, clear water gets no better than the Florida Keys.
Tarpon flies are surprisingly small in the Keys, water is clear and fish are very aware of their surroundings.  A tarpon fly should be around 1/0 or 2/0, be visible to the angler, and visible to the fish. 
Small flies that contrast the clear water are popular patterns, black, purple and yellow, chartreuse flies are a common favorite among guides.  Tarpon fly rods are 10 – 12 weight and have very large reels housing hundreds of yards of backing.
When presenting the fly to a tarpon it's all a game of angles, the perfect shot is one presented at the slightest angle to the fish's line of travel; meaning the fish doesn't have to change directions to find or eat the fly. 
Leading a moving tarpon is necessary;  land the fly and manipulate its position before the tarpon gets close enough to see it 
Backcountry tarpon fishing is a special thing in the Florida Keys as these fish use its waters as rearing grounds for juveniles or baby tarpon.  Baby tarpon on fly are a blast and often prefer a topwater presentation.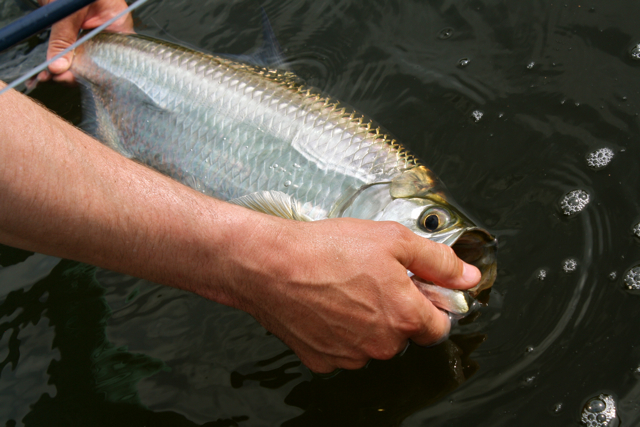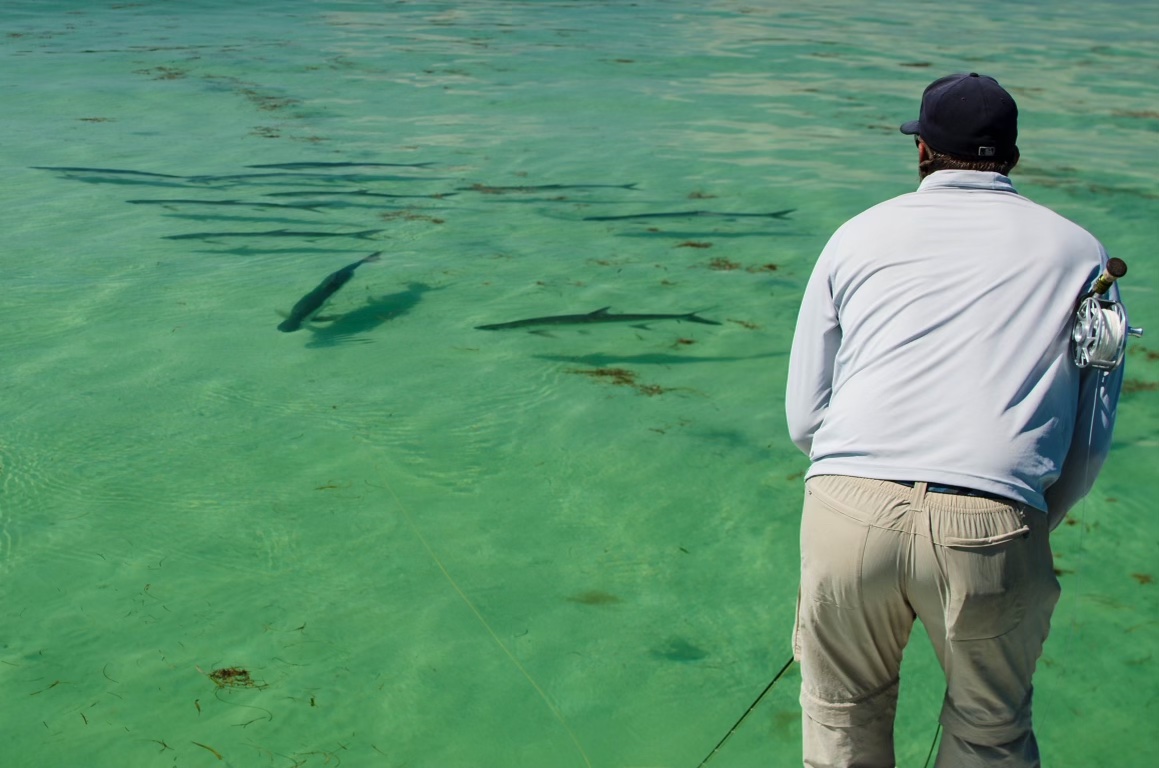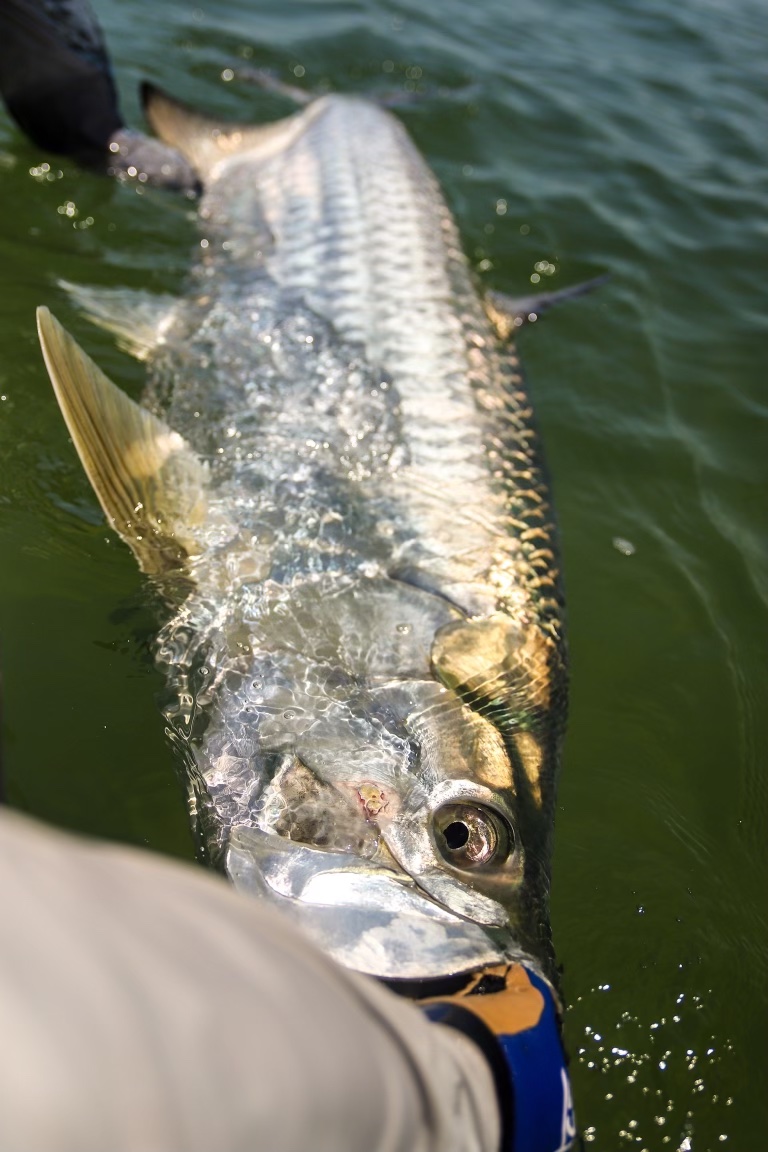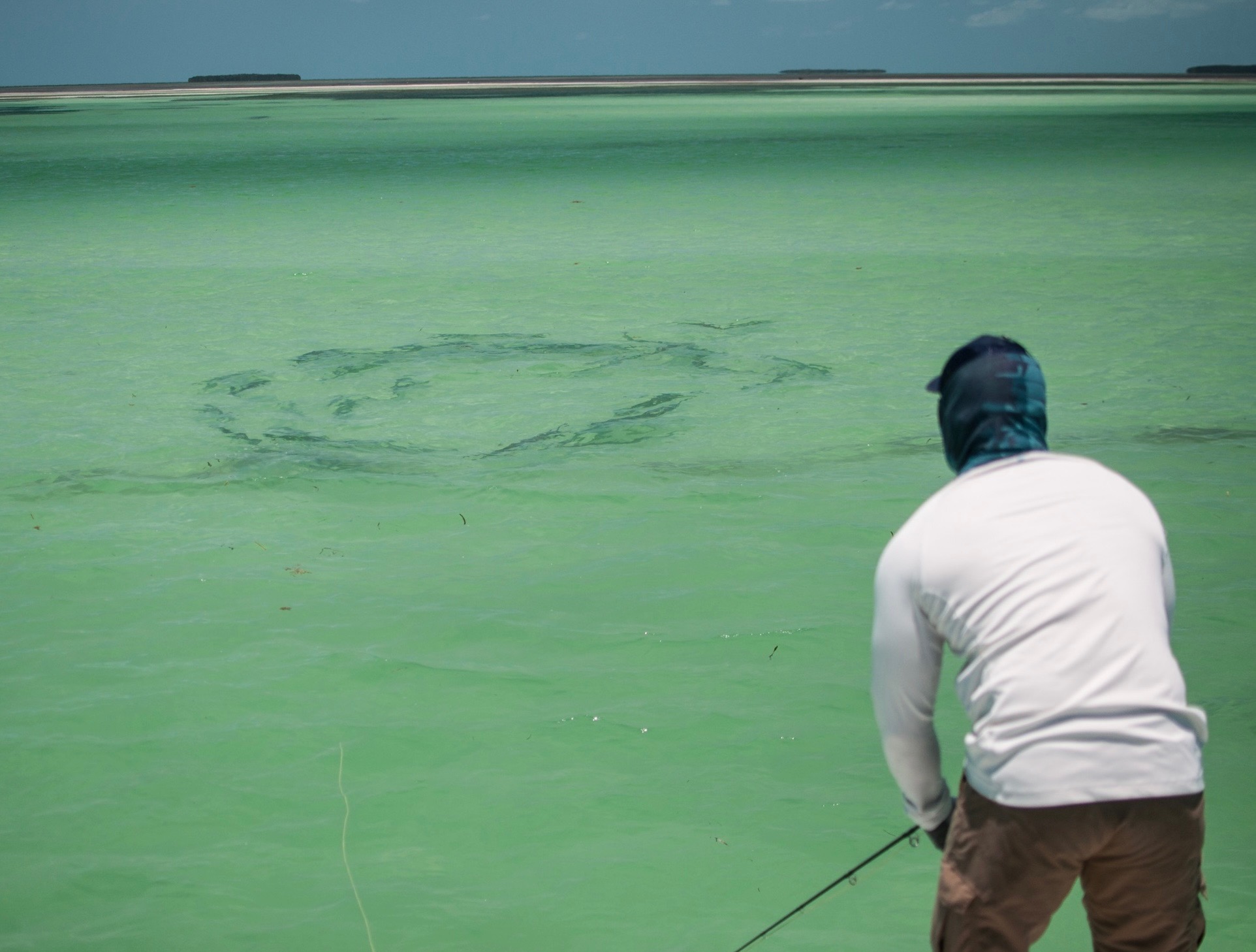 When targeting tarpon on spinning tackle we can use either artificial lures or live bait and a heavy rod and reel. 
When spin fishing, the angler either sits and waits with an offering under a bobber or we sight fish them by spotting a tarpon and casting the lure or bait accordingly watching the fish eat.
Oceanside tarpon fishing is typically clear water and three to five feet deep.  Fishing the Atlantic edge during April and May can be the peak for tarpon numbers, large schools of fish use the Atlantic edge to navigate their way north and south where they may go as far north as the Chesapeake Bay and have been observed traveling over 50 miles in a day. 
Historically the Oceanside or Atlantic edge of the Florida Keys sees the majority of the migratory tarpon schools.  During peak season it's common to see several hundred tarpon on a full-day charter.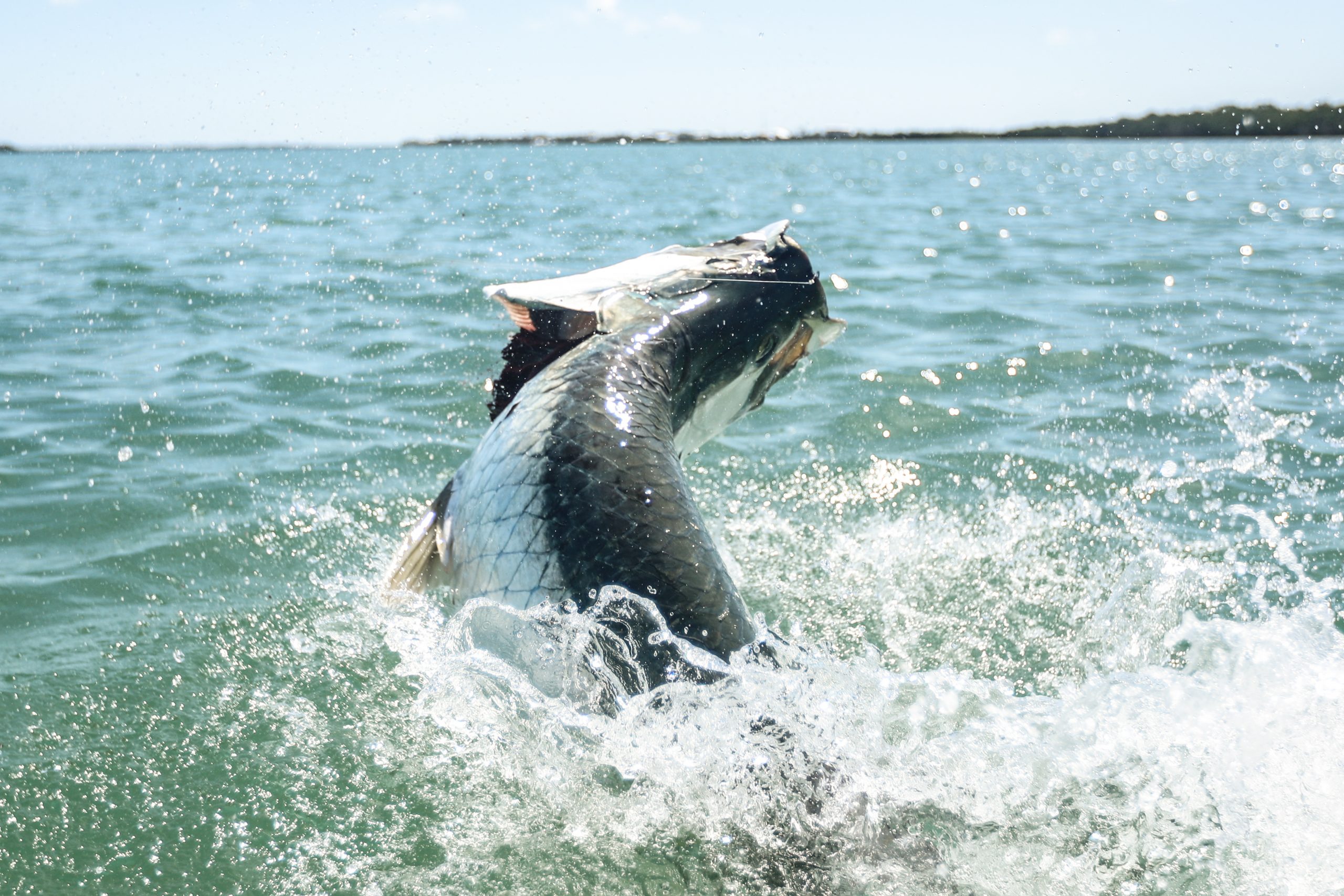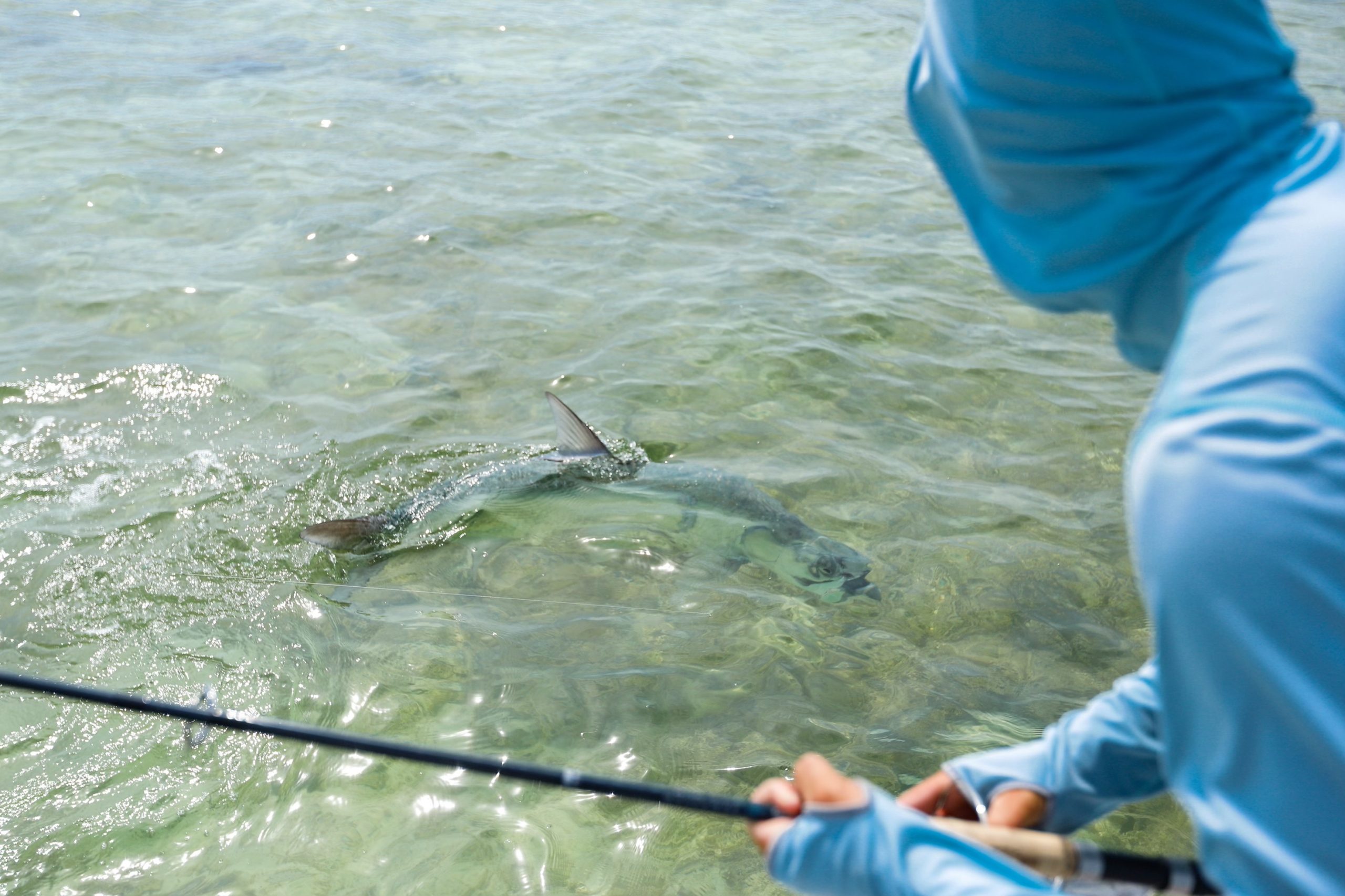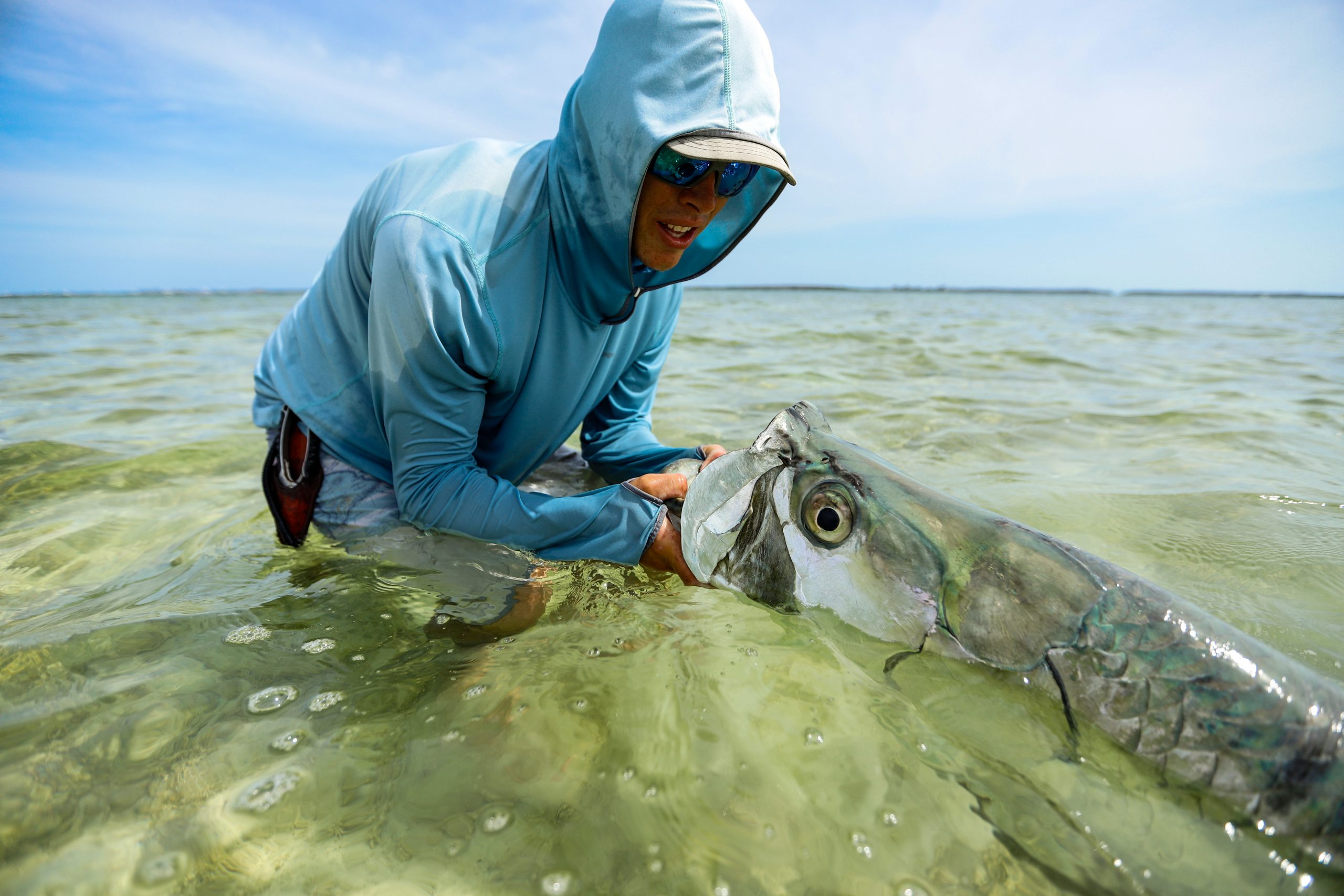 Night fishing for tarpon is one of the most effective techniques for numbers of fish. 
Both fly and spinning tackle are highly effective in the dark as tarpon are truly nocturnal feeders. 
Tarpon night fishing is very exhilarating as you can't see much but can have a lot going on.
Tarpon can often be heard feeding at night as they have specialized eyes for low light, allowing them to effectively find your fly or lure in the dark.
Resident tarpon are available at night all winter in the 10 – 50 lb range with the odd 100 lb fish mixed in as well, the fish average about 70 lbs in April and May.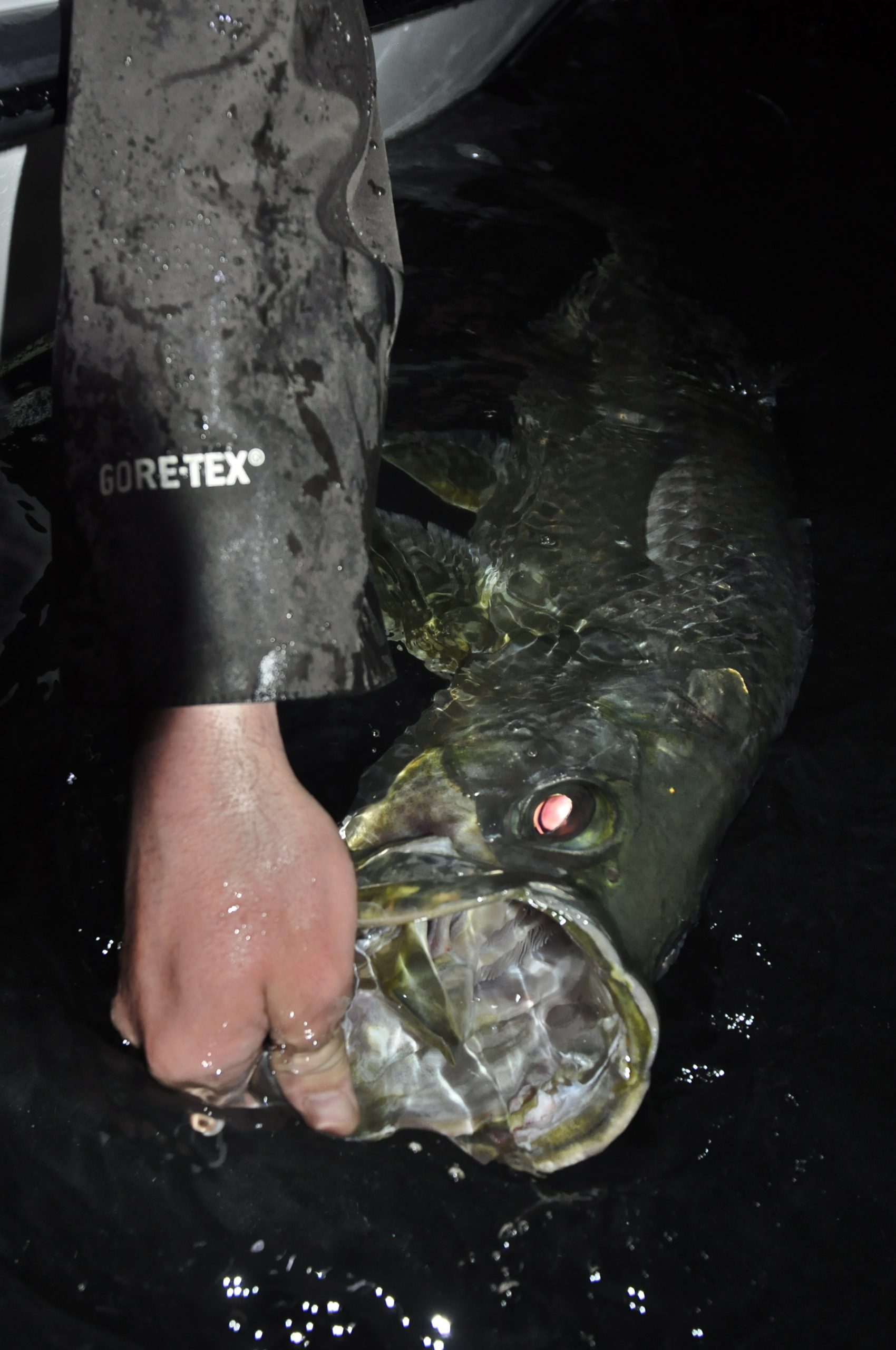 Tarpon  in the Lower Keys
Something notable about tarpon fishing the Lower Keys and Key West is the palolo worm hatch.
The palolo worms hatch several times a year usually on a semi-predictable tide or moon phase.
The worm hatch is one of the few events where you can see schools of adult tarpon actively feeding on the flats, palolo worms are small, red and usually about two inches in length.
Witnessing a worm hatch is truly a splendor of nature and may require several attempts before hitting it right.
We use fly patterns that imitate palolo worms on the oceanside while tarpon fishing even if the worm hatch is nowhere close, the fish still respond favorably to the palolo worm fly.
Tarpon fishing near Bahia Honda bridge allows for passive "sit and wait" fishing usually with live bait under a bobber or float.
Bahia Honda is the deepest cut in the Florida Keys and some of the best migratory tarpon habitat, the largest congregations of tarpon in the Keys can be witnessed in and around the Bahia Honda bridge and State Park.  The bridge and its spans come to life with huge schools of rolling tarpon.